Canalicchio farm was purchased in 1973 by its current owner, Elio Brozzetti.
The property was composed of 14 hectares of land planted to arable crops (wheat, sunflower, corn) with artificial lake for irrigation, the main house and a structure consisting of two towers used for drying tobacco, between the two towers was the barn with a sloping roof towards the center.
The manor house has been renovated in the '80s, the early 90s was used as a farm business.
The two towers originally had no floors and presented within the frames of brick protruding about 10 cm above which were supported with wooden poles of the "hanging" of tobacco leaves, fire was lit on the ground so that heat dehydrated the leaves and the smoke gave them the right flavor. On the roofs there were several chimneys, six of which are still visible. The north tower was also used in the 70s for the intensive rearing of poultry since the displacement of families from the countryside to the cities made it more and more necessary for the production of meat supply.
In the same year was in full swing the barn, now converted into the common room: about 50 pigs were reared simultaneously.
The lake was built in the late '50s and collects rainwater on the hill above: it was distributed to the plantations of tobacco through an irrigation system consisting of an electric pump, which is still visible, a network of underground pipes connected to sprinklers rain, whichcan still be seen on display in the park. Currently the lake is used for fishing.
Drying Tobacco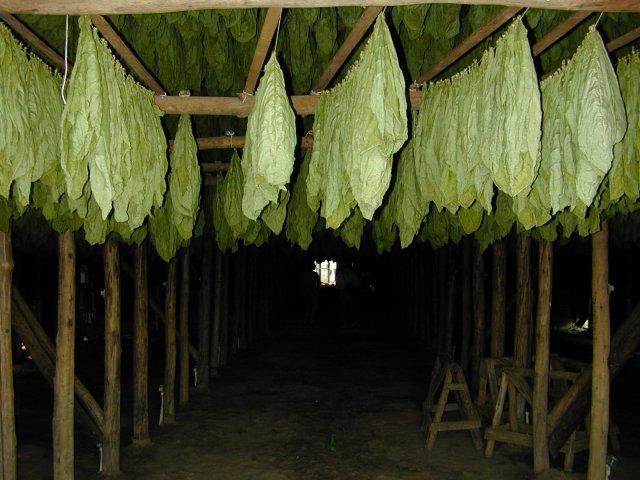 The tobacco leaves were "hung" on wooden poles and below the fire was lit to dry.